Reggie is a USA Triathlon Level 2 Certified Coach, Ironman Certified Coach and RRCA Endurance Level 2 Running Coach based in the Philadelphia region who coaches triathletes and runners. He's passionate about introducing others into sport and helping athletes reach their full potential.
Reggie was a:
Middle distance runner in high school competing at the regional and state level in his junior and senior year.
400m, 800m, 1600m relay and 3200m relay.
Broke the school record for the 1 mile run (4:54).
In 2008, he fell back in love with running after running a number of local 5k's and in 2011, started competing in triathlons. Reggie races 5k to ultramarathon, but has a soft spot for half marathons. He also races sprint triathlon to full Ironman, but loves the Olympic distance and half Ironman distance.
His love for running evolved into a love for a healthy active lifestyle through endurance sports. Reggie enjoys the strong relationships and camaraderie of the sport. He's very active in the Greater Philadelphia Region Multi-Sport scene. Reggie is passionate about fostering and developing excellence in the next generation of athletes.
Coaching Philosophy
Reggie's goal as a coach is to help athletes get the most out of their training program. He takes a "let's make it happen" attitude, so they can reach new levels and achieve goals and new heights that they didn't think were possible. Reggie views the relationship as a partnership. He works and communicates one-on-one with his athletes to help develop a great coach/ athlete relationship. Reggie's constantly learning and staying current on the sport, so that he can share my knowledge with his athletes.
Certifications
USA Triathlon Level 2 Certified Coach
Ironman Certified Coach
USA Triathlon Level 1 Youth & Junior Coach
USA Triathlon Level 1 Paratriathlon Coach
RRCA Endurance Running Coach Level 2
RRCA Youth Running Coach
USMS Level 3 Swim Coach
USAC Level 3 Cycling Coach
USA Track & Field Level 1 Certified Coach
TrainingPeaks Level 2 Accredited Coach
TRX Certified Trainer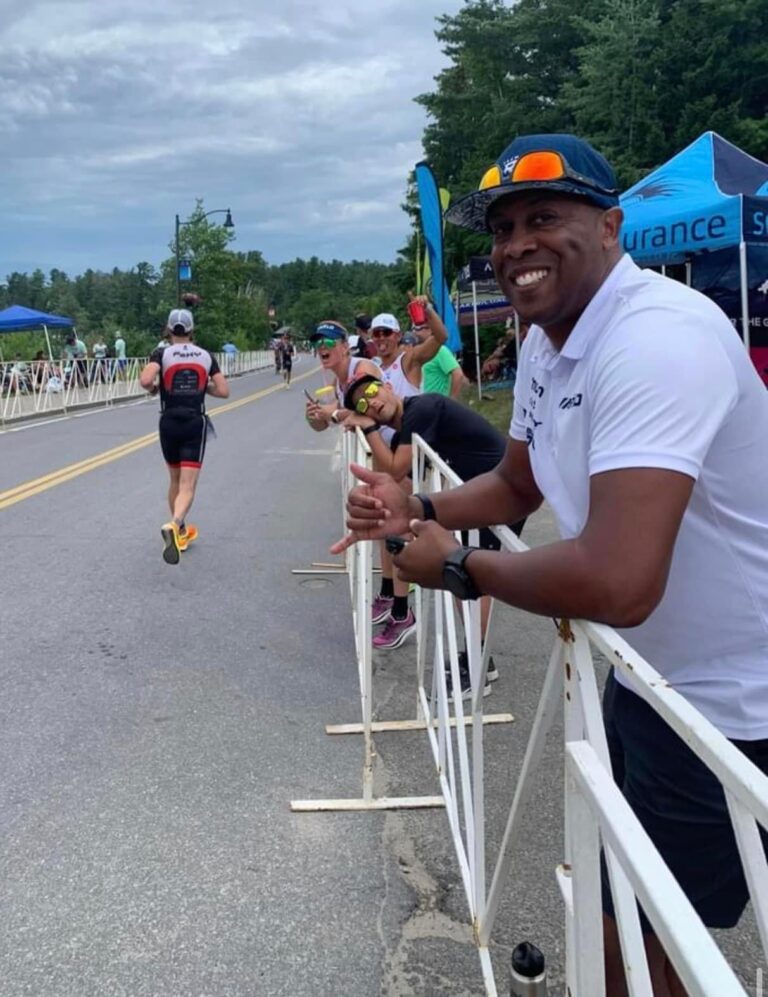 Reggie is an awesome coach! He truly cares about his athletes and puts in the work to get the best out of them. He's responsive when you have questions or concerns and helps you work through them. Reggie has helped me achieve the goal I first set when I started working with him and has helped me set new ones. I look forward to continuing our work together.
Erik S.
Ironman 70.3
Encouraging coach with a breadth of knowledge that help guide me through any decision I debated to ensure I made an informed choice. Reggie helped me combine the multiple disciplines into the sport of triathlon and developed workouts that helped help me make rid of the "junk" miles I was doing before in my own training! Thank you, Coach!
Warren A.
Ironman 70.3
I've really enjoyed working with Reggie. Reggie is incredibly positive and even the smallest gains get recognition and praise. I love that he still takes his work with me seriously even though I'm not your typical athlete. Looking forward to the rest of the season and setting some loftier goals!
Bina B.
Cyclist
If you are serious about a race or event, Reggie will match your energy. After I crossed the finish line, one of my biggest cheerleaders was Coach and he called to congratulate me about my accomplishment and see how I was feeling! I appreciated this so much! After the event, his recovery plan helped my body adjust and now I feel ready to continue training. His careful attention to my needs and support have been primordial this training season. Coach Reggie, thank you!
Maria P
Ironman, Runner
If you're looking for organization, structure, guidance, expertise and want to take your triathlon training to the next level I recommend talking to coach Reggie, he's been wonderful to work with and I highly recommend him.
Robert I.
Ironman, Ultra Runner
Single Sport
Coaching
Running, Cycling
$99 set-up fee (one time)

Customized training plan to meet your goals

Plan delivered weekly through TrainingPeaks

Training Plan adjustments as needed

Strength training recommendations & drills

Race day strategy and pacing advice

Unlimited email/text access

Monthly phone/video coaching consult

Consistent monitoring and communication

24 Hour Coach Responsiveness
MultiSport
Coaching
Triathlon, Duathlon
$99 set-up fee (one time)

Customized training plan to meet your goals

Plan delivered weekly through TrainingPeaks

Training Plan adjustments as needed

Strength training recommendations & drills

Race day strategy and pacing advice

Unlimited email/text access

Monthly phone/video coaching consult

Consistent monitoring and communication

24 Hour Coach Responsiveness